With a moderate south forecast for Saturday, September 8, it was definitely a flight park day for me. I try to alternate between Blue Sky and Highland Aerosports, so, after flying Virginia last weekend, I was off to the Eastern Shore of Maryland. An early start got me there well before 11:00, where I found the tug still hangared and the entire crew socializing. Winds were much stronger than the forecast max of 9, so they had cancelled lessons. I set up, and was joined later by other pilots straggling in.
Pilots included Mark C, Carlos W, Ric N, Christian T, Chris McK, Daniel B, John M, Tom McG, Viktor, and Roger from NJ (new solo pilot). Here I am showing off my classic UltraSport with snazzy fin among a pile of U2s and Discus gliders, as well as the tandem wing. I had the only fin on the line. I just bet they are all jealous of my way cool tail fin, right?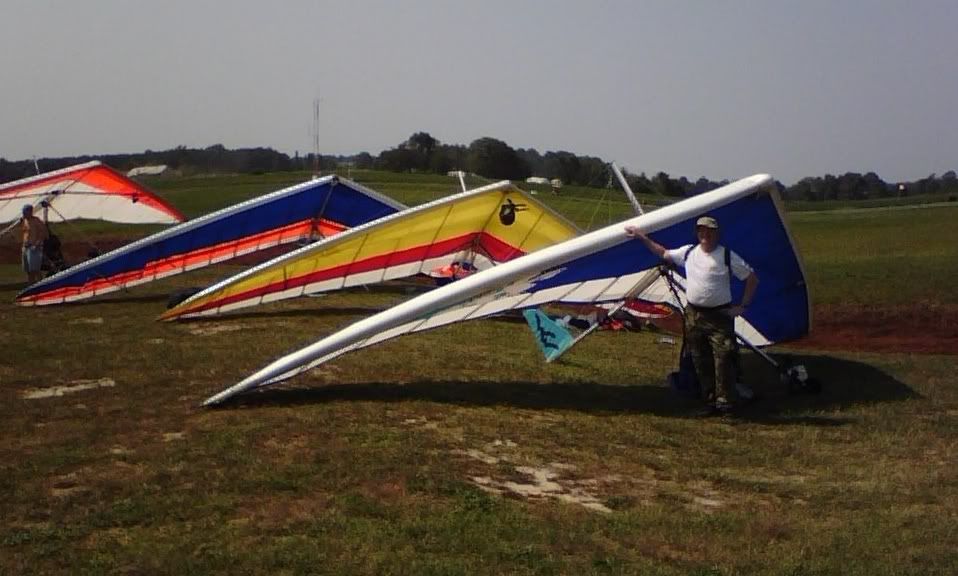 I allowed others to test the sky before I carted up. This shot shows just how energetic the Highland ground crew is.
See Bob run! Run, Bob, run!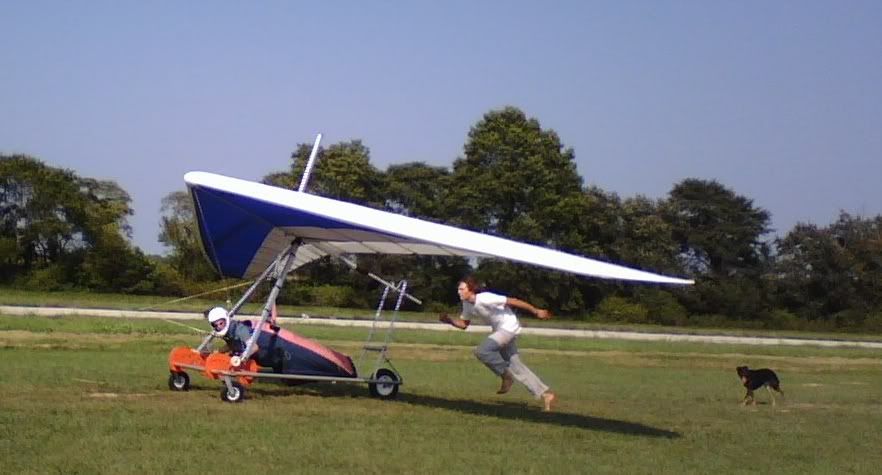 On this strong south wind and cloudless day, the activity was dominated by sled rides and extendos. Even Christian in his rigid wing had difficulty sticking in the sky. Ric had FotD, reaching 5K in a fast drift for a 42 minute, one thermal, 10 mile XC, not quite making it home as planned. The best entertainment was Mark's first landing. The quote from Pogo, "We have met the enemy, and he is us," was never more appropriate. Ask Mark about pogo.
I flew twice, accumulating a total of 30 minutes flight time for the day. The flights were almost identical, although on the first I did find a very light thermal when I was about 1500 AGL. I worked it from over the LZ to the north for a bit, but the drift was so fast, and the gain so light, I decided it was not worth a retrieve to where I might need to land. I left the thermal and came back to over the airport. That drift and maintain (hardly a gain) made flight #1 all of two minutes longer than #2.
I finished both flights with well positioned landings by the sock, with clean no steps. I was very pleased with both launches and landings. Fine day to be part of the sky.
Here is a short video with highlights from my flights.