Each spring the Smithsonian has a one day
kite festival
. This year was their 41st. For the last 8 to 10 years, the
Capital Hang Gliding & Paragliding Association
has set up a display. (Last year it coincided with Women in Aviation Day at the Smithsonian Air & Space Museum Annex Udvar-Hazy Center at Dulles Airport. The club split resources, and
I was in the big hangar
instead of at the Kite Festival.
We pride ourselves on bringing the biggest kites of the festival. Sadly, we are not allowed to fly ours there. However, many visitors ask if we are going to, and if we can jump off the top of the Washington Monument with them.
It was a long day on the Mall, but a lot of fun. I got most of the gear down there about 7:30. Just to add to the fun, there was no parking on Constitution Avenue because of the Epilepsy Walk. Batman showed up with the Bat Kite about 8, hollering obscenities at me because he could not figure where to park to unload his glider. We solved that by telling him which sidewalk to drive up in order to get the Bat Glider unloaded.
Not surprisingly, the Bat Kite was a real hit as a photo opportunity for festival visitors. Both young and old wanted to pose under it. Since the glider is brand new, it has only been flown by the test pilots at Wills Wing. Winds have not been cooperative since Batman took delivery. You can see it below.
We never really expect to recruit new pilots at the Kite Festival. It is just a fun way to do some good PR for hang gliding. One fellow said he used to teach at Kitty Hawk. Another visitor said he got his Hang 2 years ago but got away from the sport. I think we did convince a couple of folks to at least go try a tandem lesson, for the experience.
We gave away over a hundred hang gliding and paragliding buttons for the kids, dozens of copies of back issues of the USHGA / USHPA magazine, and quite a few simple flyers introducing the sport that our club has prepared.
Officially, the festival was over at 4:00. However, the crowds were still milling around, and we did not finish getting packed up and out of there until about 6:00.
Overall, pretty good turnout from the club. Here are all the names I recall as being down under the kite-filled sky:
Chris Mc. Suzie & Shasta, Carlos W, David B, Mark C, John M, Joe G & Mark, Shawn R & Malina, Mike L & Rhonda, Tom Mc, Tracey & kids, Joe S & Zelda, John D & Family, Jim D & more family, Daniel Broxterman.
--
Here are a few pics, followed by a video.
The Batman under the Bat Glider.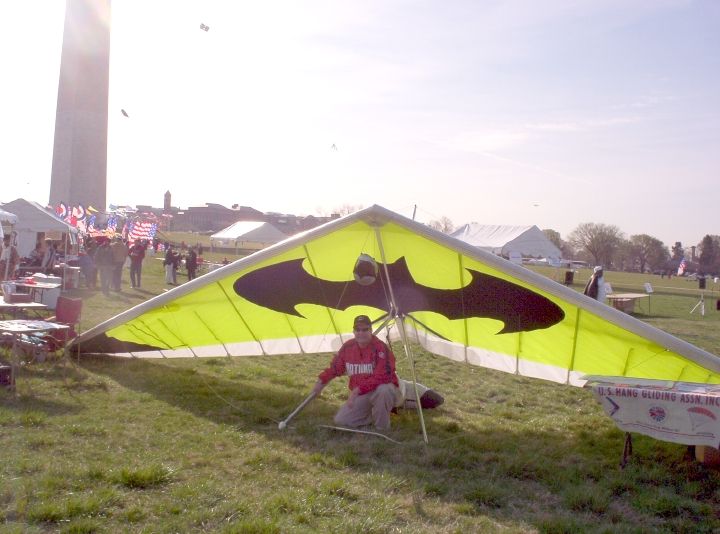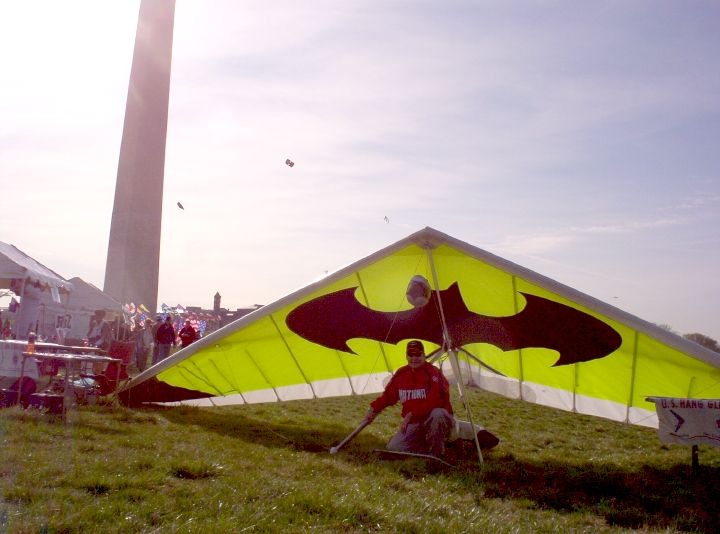 David B, selling the sport.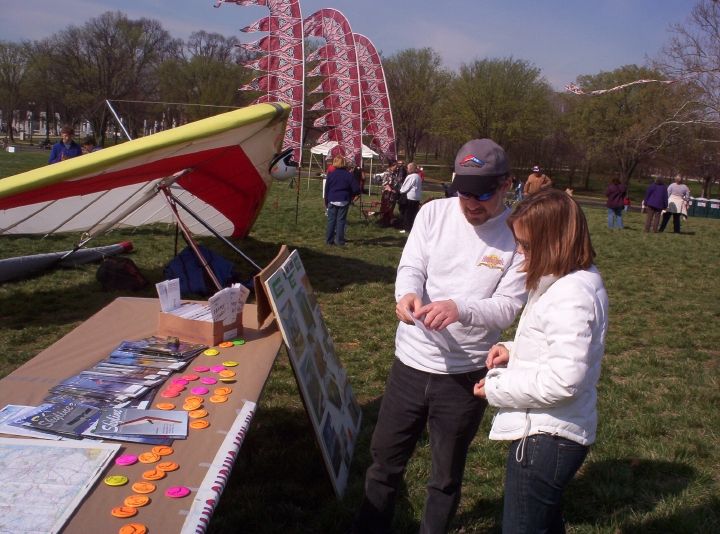 Joe G and Mark join the Batman.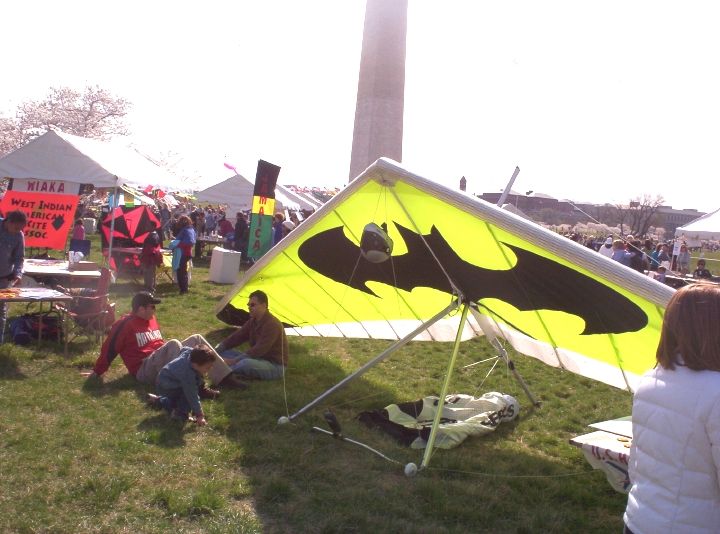 Batman and I pose, with Shawn off to the side.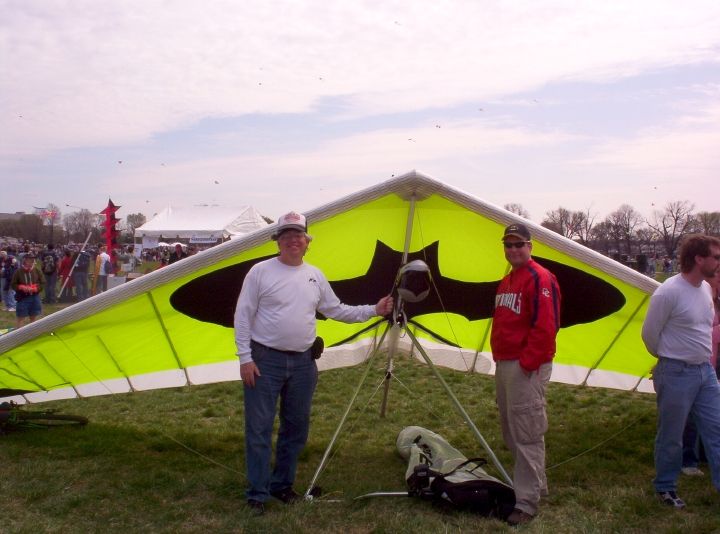 Daniel & David tell hang lies while Mark actually talks to a visitor.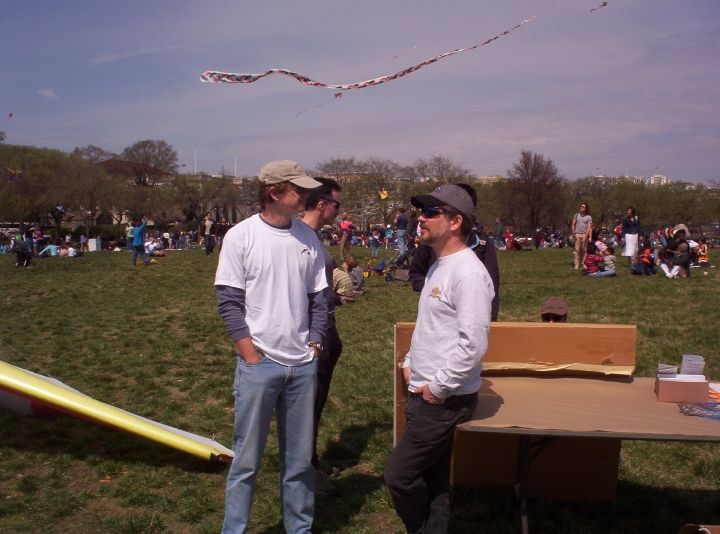 A smallpart of the crowd; John M giving the club flying spiel at the table.
Even more crowd around our display.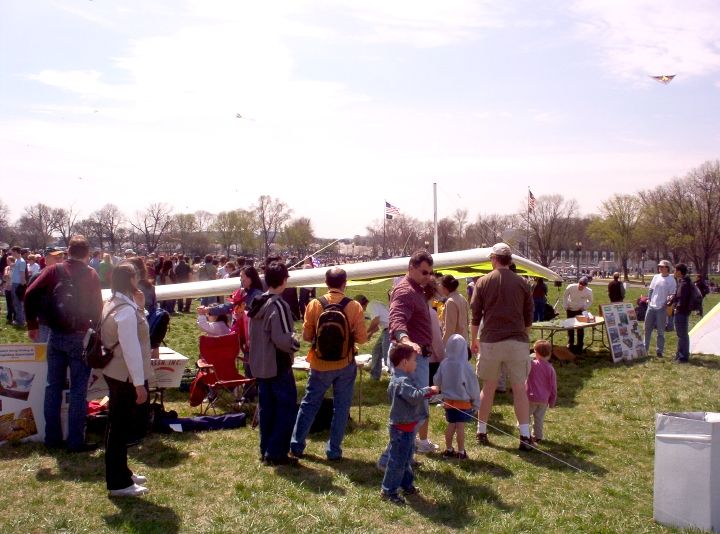 And, what would a Kite Festival be without a Kite Eating Tree?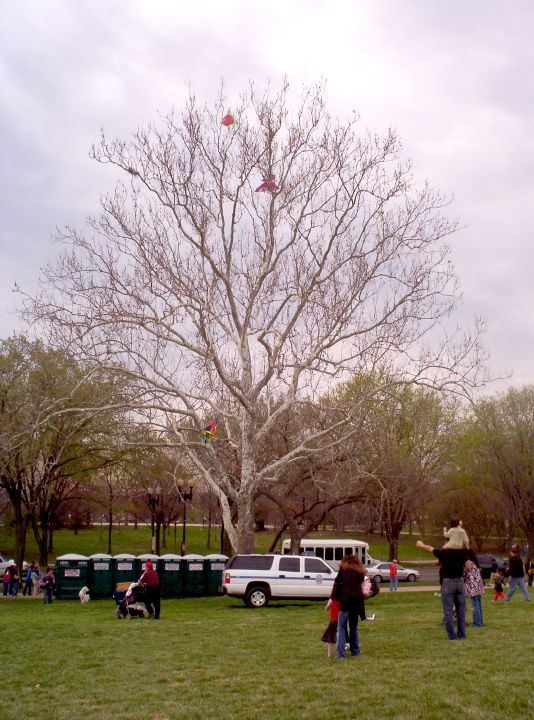 About 5 minutes of the sights and sounds of the day.